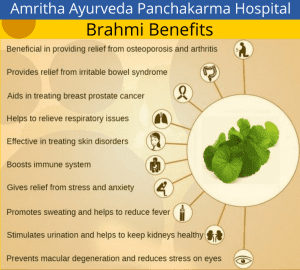 Phenomenal benefits of Brahmi 
Brahmi Benefits Ayurveda to treat countless diseases for centuries and continues to do so by its age-old tradition of supporting the several systems in our body through herbal treatments. Plants have been utilized as treatment options for thousands of years, based on practice and folk remedies and play an essential role in the treatment of mild and chronic diseases.
One such impressive herb is Brahmi which has often been honored as a brain booster. The name, Brahmi, is believed to be obtained from"" ""Brahma"""" or creator. Since the brain is recognized to be the focus of creative and imaginative activities, the herb which best enhances the brain's functioning was named Brahmi. It evolves naturally in wet soil, shallow water and swamps. It has tiny flowers with light purple or white in color. Almost the entire plant along with its flower holds medicinal properties. If you wanted to know its impressing benefits then keep reading; 
Brahmi is a therapeutic herb generally utilized as a memory enhancer, aphrodisiac and a health tonic. According to Dr.Santhisree Bheesetti Ayurvedic Expert, let's discuss its mesmerizing benefits one-by-one in elders, younger and children; 
Magnify brain functions – 
Brahmi Benefits
as a wonderful tonic for enhancing your brain functions. It works by improving the short term, long term memory and also works over the remaining capacity. It reduces anxiety and keeps the mind calm. It facilitates sleep, ultimately helping you to achieve good health. 
Anxiety liberation – Brahmi works by reducing the level of cortisol which ultimately reduces the level of anxiety and stress. If you are living a stressful life, then this can be an excellent addition in your life. 
Memory booster – 
As suggested by Dr.Santhisree Bheesetti, Brahmi gives a strong boost to memory by positively stimulating the hippocampus. It helps the children to grasp and memorize the things quickly. If your child lacks in academics, then you don't have to worry now. 
Improves blood sugar level 
Brahmi is recognized for improving the blood sugar levels in patients with diabetes and may further improve signs of hypoglycemia.
Reduces the symptoms of Autism and ADHD – 
Brahmi also works very well in a child with ADHD and autism by nourishing the tissues of the brain and supporting the myelin sheath. Brahmi has confirmed it is helpful in fixing attention among children, and improves the communication level. 
We believe in time consuming but worth investing, and recommend a herbal approach for a healthy life. To know more about this miraculous herbal tonic you can consult with us at https://www.autismayurvedam.com/ or you can directly call us at 9989759719.
Book an appointment with us. We are just a Phone call away, Let us Talk.  
#Autism #ayurvedam #panchakarma #brahmi #benefits #homeremedies #detoxification #toxins  #AmrithaAyurvedam #drsanthisree #amrithaayurvedam #panchakarma
Follow Facebook, Twitter , Blog