An Affair of Ayurveda with Ghee
"Tongue of the gods," "navel of immortality"
We will proclaim the name of ghee;
We will sustain it in this sacrifice by bowing low.
These waves of ghee flow like gazelles before the hunter. Streams of ghee caress the burning wood
Agni, the fire, loves them and is satisfied. – Rig Veda
As the Ganges has flowed down through the tales and meadows of India for thousands of years, so has ghee rushed within all phases of the Indian culture. In the Ayurvedic wisdom, ghee is a sacred kitchen ingredient and also honored as a representative of auspiciousness, nourishment and healing.
In Vedas, ghee is called as" Most essential of all foods, and also recognized as the central component.
If I tell you about Ghee then personally it's my opinion that there is something magical about it. The nutty and rich smell of the ghee is amazing.
Ghee is recognized as ghrita in Sanskrit. Ayurveda has given great attention to ghee for its medicinal properties, its therapeutic properties, and its immunity-boosting features. Ghee, when practiced with other therapeutic herbs, it not only enhances the body functions but also it serves to cure various diseases".
In every day's hustle and bustle, we overlook to concentrate on our eating patterns and how badly they are affecting our bodies.
A strong immunity system mainly determines health and the generations before we have diligently taken care of their health by consuming things like jaggery instead of sugar, a warm glass of milk, herbs, and even spices. Cow ghee is also one of those superfoods that are identified to promote immunity and during the COVID-19 pandemic; ghee is the need of the hour.
While you are worried about purchasing the immunity booster, you may have forgotten that cure is present in your kitchen.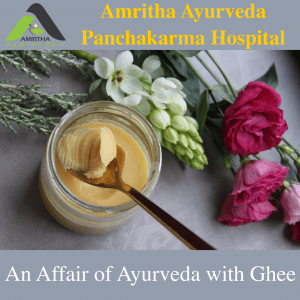 Let's dive into the benefits of Ghee –
Great Energy Booster:
The broad range of fats that constitute ghee includes medium-chain fatty acids, which are extremely beneficial for the body and can be consumed as energy. It doesn't contribute to weight gain that's why it is recognized as good fat. Thus ghee can produce the needed burst of energy that we might require to face daily challenges.
Potential Immunity Booster
Due to its strong gut-health-boosting and detoxification qualities, ghee is the best friend of our immunity system. Not to mention, but approximately 80% of the immune system resides on our gut). Thus the immunity-boosting foods, also carry a potent combination of anti-inflammatory and antioxidant advantages that support an alkaline environment in the body, causing it hugely challenging for the disease to flourish.
Anti-Allergic properties
Ghee is dairy-free, which suggests that it is safe for lactose intolerant people, and also for those people who are allergic to butter can enjoy the deliciousness and therapeutic qualities of the ghee.
Improves Heart Health
Although most people link butter with high cholesterol levels and a decline in heart health, but in reality, ghee is rich in good fat which gives a healthy boost to the heart. The presence of Omega-3 fatty acids in ghee can serve to reduce the unhealthy cholesterol and make an energetic balance to your fat intake.
Anti-Inflammatory
Butyric acid is the essential short chain of fatty acids, which is actually possessed by the Ghee. In recent studies, it has been shown that they actually reduce the inflammation in the gastrointestinal tract, and also suggested ulcerative colitis.
On the top, ghee enemas have long been utilized in conventional medicine for inflammation of all kinds. As ghee contains conjugated linolenic acid, it serves to reduce the weight and also help to promote a faster metabolism.
Antioxidant properties
The health advantages of vitamin A are extensively advertised and are remarkably helpful. When the antioxidant function of conjugated linoleic acid and butyric acid are combined with the power of vitamin that is present in the ghee, we receive a strong anti-cancer substance that could help decrease oxidative stress.
Improves Eyesight
Ghee enhances our vision by supporting the digestion of vitamin A in our bodies.
Strengthen Bones:
Ghee is loaded with vitamin K2, which stimulates the body to utilize the calcium, which further supports healthy bone growth. Ghee is also recognized to be a comprehensive tool for body detox when eaten along with other plant herbs in the accurate quantity as it enters the body tissues destroying the toxins found in its way.
Though it is also sensible to presume that Ghee may be formed substantially of fats, but if it is taken in the right quantities its combination can actually benefit the body. In ayurvedic practice, ghee has been in use to enhance the effects of herb in the body. At last, we would like you to speak with an Ayurvedic expert about your problem and the Ayurvedic treatment.
Amritha Ayurvedam has already treated thousands of patients with ayurvedic remedies. To get in touch with us, you can directly contact us at 9989759719.
Follow Facebook, Twitter , Blog
#ayurvedam #panchakarma #AmrithaAyurvedam #drsanthisree #ghee #milk #butter #food #a #homemade #ayurveda #foodporn #gheebutter #foodie #healthyfood #keto #healthy #foodphotography #indianfood #clarifiedbutter #organic #yummy #desighee #lowcarb #delicious #nutrition #foodstagram #cowghee #fitness #love #manteigaghee #instafood #healthylifestyle #bhfyp