The inner potential of all the autistic children can be unleashed with our Ayurveda Treatment accompanied with support from the parents!!!
Book a free call with one of our expert to see how Ayurveda can help your child with special needs.
IF YOU'RE THE PARENT OF A SPECIAL CHILD, WE CAN HELP YOU
We saw great improvement in the first 10 days only. He improved a lot, identifying things, understanding his surroundings, and eye contact also improved. He started imitating words along with us, giving it a try to repeat the difficult words as well, and also actively doing the simple tasks that were given to him like bringing some water, picking up the things, etc.
My son, Master Nischal, was a premature baby, and he weighed 1.8 kg at the time of his birth. My son is 3.2 years old. The doctors examined the baby and declared it to be completely healthy. There was not even a single health issue up to 1 year. Post that gut problem started, he has been under medication for the same for 1 year. Though there is a gut problem, he used to behave like a normal kid, like responding to small words and being able to repeat them easily. But all of a sudden he stopped responding even for his name. He started muttering alone without any company and became hyperactive.
My brother saw Sree Prathama Ayurvedam on Facebook and contacted Dr. Shanti Sree Garu. She examined my son and told me that he has mild autism and also suggested panchakarma and internal medication. Then we started medication at Sree Prathama Ayurvedam. Initially, we started with oral medication, and he started responding to the medicines. We then opted for a 40-day course of panchakarma, and we saw great improvement in the first 10 days only. He improved a lot: in identifying things, understanding his surroundings, and making eye contact. His eye contact also improved. He started imitating words along with us, giving it a try to repeat the difficult words as well, and also actively doing the simple tasks that were given to him, like bringing some water, picking up the things, etc.
We are now in the last week of panchakarma treatment and are very happy with the treatment and hospitality provided by Dr. Santhi Sree, and I also recommend Sree Prathamas Ayurveda for autism and related issues.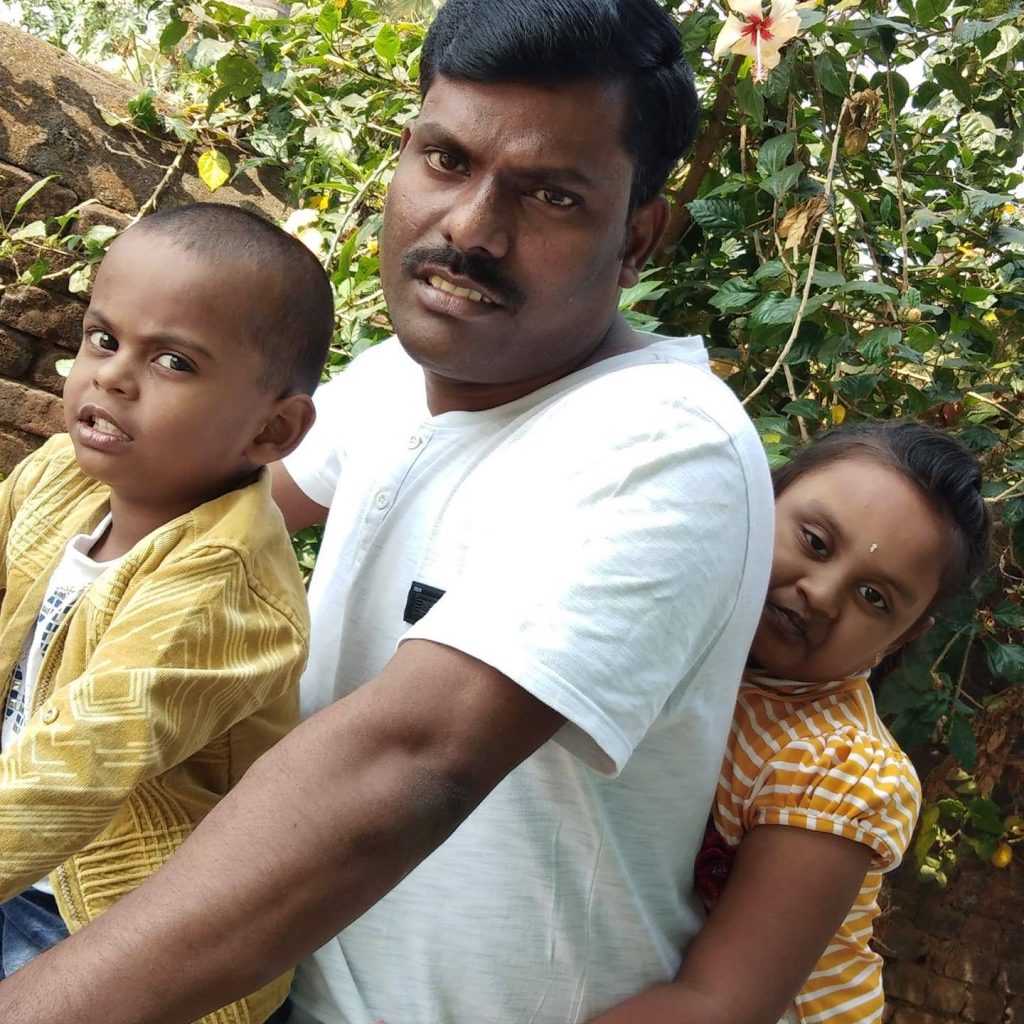 BABJEE Assistant Bank Manager (Anakapalli)
Our specialized Ayurvedic treatment for Autism At Sree Prathama Ayurvedam
We believe that Early intervention is Crucial for Autism. We cater to children who are facing special health challenges. We partner with the parents to address the symptoms of Autism and offer them customized Ayurvedic treatments so each child can reach their potential.
Ayurvedic treatment for Autism
Autism and depression
Diet Management in Autism
Sleep Disturbances
Anxiety
Gut issues
Best treatment every time
My kid suffered with poor diet, lack of sleep and attention disorders for a while. We tried Ayurvedic medicine for the first time from Amrutha Ayurvedic and the results were very good.
The only thing I will tell for all the users is to be patient during the course and more importantly, believe it. These medicines may not work in a day or two but will work slowly over a period of time.
You may observe the change in a week or in 2 days. In my case, my kids appetite increased in a week, sleep became better in a month and her eye contact improved from 2 months. We are still continuing the medication and I hope in near future my kid will become normal. My overall experience with the Doctor, clinic and the staff is very good. I'll definitely recommend to my friends.
Yugandhar Software Engineer
About Doctor
Dr.Santhisree Bheesetti (B.A.M.S)
Dr.Santhisree Bheesetti, Founder is a certified B.A.M.S Ayurveda doctor from Rajiv Gandhi University of Health Sciences. Her medical practice from 2010 has led to extraordinary and tremendous results in the field of Women and Child care. She has provided customized treatments to the patients and touched many lives with her keen areas of interest in Autism, ADHD, Cerebral Palsy, Down Syndrome, Speech disorders, Anxiety Disorders, Women's issues, Neurological disorders in adults. Her solution-seeking attitude with root cause analysis gives a holistic treatment approach curing several diseases through Panchakarma, Yoga Asanas and internal medication. Dr.SanthisreeBheesetti, the successful AYURVEDIC doctor is seen successfully overcoming day-to-day related health problems of the clients with Herbal Medicine and Ayurveda treatment balancing both body and mind.
A mother story
Myself Dr Poulami Ray is from Mumbai and has 2 kids. Her elder daughter is a brilliant student at a top ICSE school in India. Her younger son was diagnosed with high functioning, very mild autism at5 years old..5 yrs The toughest journey of life begins Firstly, it took us almost a month to accept and understand what autism actually is. Being the only doctor, it is more difficult for me to accept and make the whole family understand. It's like a bomb for all of us. We decided our path very quickly. We took him to the US for final diagnosis and treatment.
At the same time, I took the renowned Hanen course to help him. Started immediately on OT and speech therapy. Started on ABA therapy. Also met biomedical specialists Dr. Venkat and Dr. Din. Did all the investigations come from the US? Started immediately on GFCF and a low oxalate diet. Started on IMB-12 shot.
Continued for 1 year, every 48 hours. I tried homoeopathy and also tried Quigong massage. All had very little effect. not getting the desired results Getting fraustated Sometimes back, I met Sumana, and through her, Dr Santishree started medicine from this March only. got the following improvements: More calm, better attention He almost repeats every word he hears.
Understanding improved to all most as his physical age Started talking in 3-4 word sentences. Started writing a little bit about difficult behaviour and got most of the way down to 10–20%. Listening is better. I know it's a lifetime disorder and a marathon journey. Still, I want to celebrate my small successes with all of you. Thanks to Dr. Shantishree again😀 Dr. Poulami Ray, doctor
How Ayurveda can help?
Shiroabhyanga
Head Massage for Autistic kids!!
ShiroAbhyanga is a word comprising of 2 terms, shiro meaning head, Abhyanga meaning massage Thus ShiroAbhyanga means giving an Ayurvedic head massage using herbals oils.
The Ayurvedic oils used have properties to cool the brain, enhance eyesight and calm the mind. Head massage also increases oxygen supply to the brain.
Marma Abhyanga – An Ayurvedic treatment
Marma Abhyanga is an ancient Indian treatment used for healing,relaxation and to treat the various chronic diseases. A healing therapy that works on subtle energy points to open up the blocks in the network.It enhances and balances the flow of prana – the vital life force and gives total relaxation.
Autism and ADHD in Children
The Ayurvedic approach only focuses on balancing the elemental qualities by recognizing the underlying doshic irregularity and toxin (ama) build-up. Ayurveda works both to reduce and end distress, but more importantly, it tries to reverse the cause. Ayurveda can completely treat Deficit Disorder if parents make the right choice at the right time.
Takradhara – Cooling Treatment
Takradhara treatment has the calming and smoothening effect on the mind and relieves anxiety and stress in Autism.
we saw increased probability of responding to name, addressed teeth grinding, gut issues, significant improved in eye contact, attention spans and focus
Diagnosis- Global Developmental delay
Our child is 4 years old diagnosed with Autism Spectrum disorder/global developmental delay at the age of 2 years. We have used homeopathy for almost 1.5 years i.e. from Sep'16 to Feb'18 with no success except for her constipation. Then after further research about alternatives, we saw the light in the form of Dr Santhisree garu through some common friends.
We have started taking medications at Amritha Ayurvedam from March 2018, our child is not verbal yet with lot of sensory needs. After using Dr Santhisree's medicines, we saw increased probability of responding to name, addressed teeth grinding, gut issues, significant improved in eye contact, attention spans and focus.since Ayurvedic medicines proved to be effective and successful, we decided to go for Panchakarma Treatment in the month of August 2018 based on Dr Santhisree's recommendation, initially we planned for a week but looking at the results, we have extended it for 21 days and it helped to great extent especially with babbling, says some words randomly, hopefully it will get better and better, we wish we had enough time to do 40+ days, also attention spans and focus have been improved after panchakarma. We are always highly indebted to Dr Santhisree garu and her team.
Dr Santhisree garu and her team also took great care of my wife and kid, also celebrated our daughter's birthday as they are away from home when they visited India for panchakarma treatments!! 🙏 And there is one more thing that we love the most, I have experience running behind doctors and therapists but it's the other way around with Dr. Santhisree garu, she always stays on top and follow up regarding the status before we reach her and always responds to any questions or help pretty much instantaneously, can't thank you enough for this, kudos for being what you are andi, your success is our kid's success, wishing your more and more 👍👏 Chaitanya USA.
Contact Us Here
We are here
Sree Prathama Ayurvedam, Plot no -938, Opposite, Sumana Hospital Vivekananda Nagar, Kukatpally, Hyderabad, Telangana 500072
Phone:+91 99897 59719
Email: drsanthisree018@gmail.com
autismayurvedam@gmail.com
We are here:
Visakhapatnam:
Sree Prathama Ayurvedam,D-No-4, 54-2,plot no-104, 4-54-7, near Krishnudi Gudi, Lawsons Bay Colony, Pedda Waltair, Visakhapatnam, Andhra Pradesh 530017
Phone:+099897 59719
Email: autismayurvedam@gmail.com
Hyderabad:
Sree Prathama Ayurvedam, 938, Opposite, Sumana Hospital Ln, Vivekananda Nagar, Kukatpally, Hyderabad, Telangana 500072
Bangalore:
Sree Prathama Ayurvedam,404, 4th Cross Rd, 7th Block West, 7th Block, Jayanagar, Bengaluru, Karnataka 560070